Cassie,
It was Sunday 2/4. I woke up to the house shaking with 20+ MPH gusts....I had booked the day to hunt, Finn was over due. My impulse was to cancel, my resolve was to get Finn some time in the field he so rightly deserved. I figured if he had fun it would be worth the time. Driving to the preserve I recalled a training day some years ago with a Setter I had acquired from Fazenbaker. The wind that day foiled the GSH pointers, but the dog I was working with, Jake, had good presence, knew to use the wind, and pointed all the plants that day. The trainer cornered me and advised "don't get that dog fixed...."
So, we arrive at the field, and its cold and its blowing, I'm thinking my son will sit this one out in the truck, but offer that only as a fall back, and ask that we find some vale and try to duck the wind thinking the adrenaline will get going with the hunt. So off we go.
We weren't 15 minutes out and Finn starts getting birdy, the tail wag and posture are unmistakable. Remember, the conditions are tough, on top of the wind there is a layer of snow over a layer of ice, we are hunting over a mix of milo and Indian corn, the tufts of crop are covered with ice, but offer a burrow on the downwind side. So Finn locks in ( when there is a bird, you can't move him, you could try dragging, be remember he's close to 90#).
So we walk up and down the corn row looking and kicking at every shadow. No bird....I look to Owen ( my Boy) I said "O, if Finn says there's a bird in here there must be a bird in here, let's do it again." and sure enough the hen turn here head and I see the flash of her eyes! I kick, she goes, O shoots, O shoots again.....I shoot.... I shoot again, and see one feather fly....ugh Cripple. Finn goes. A couple minutes later she's in the game bag.
We hunted for maybe 4 hours that day, we put up maybe 8 or 9 birds, hit 4, bagged 4. None of them were clean kills I'm ashamed to admit, they would get up and then just get sucked off in the wind, we just couldn't seem to swing fast enough. But every bird we nicked Finn fetched up. The wind never threw Finn that day, he would just double back and readjust his read on the cone. There were a couple of points that after we walk through he readjusted on, but once he locked in we had to find the bird.
At one point we had flushed and missed a hen, we combed the area that she appeared to land in, and Finn pointed to an area, as I started to forge ahead I saw the wing of a hen, perhaps an owl kill, or who knows, I called him off, but he wouldn't budge....again, I look at O, said we better keep looking, sure enough maybe 10 feet ahead of the wing is a Cock sitting in a tree....
I could go on and on. I can say this much in summary; we didn't get cold that day, we were really jazzed up following the lead of our faithful leader, Runs Like A Sutphen. If it wasn't windy that day it would have a been a perfect showing by Finn anyway, that it was a horrific day wind wise and he was still perfect makes it my best day of hunting with no contest.
He's a champion!
Jason Cheney
(Then I recieved a second email from Jason, As A breeder these are the story you want to hear over and over again. Thank You Jason.)
you've heard what a wonderful hunter Finn is, you also need to know what a faithful companion Finn is;
we live in an old farm house, the farm dates back to the mid 1700's, and while some of the land has been sold off over the years much of it is still farmed for produce.
Finn typically joins me for morning rounds including tending the chickens. This morning (3/2), in typical fashion, while I'm tending the layers Finn heads out the lower field, maybe 500 feet away, and investigates what the coyotes were up to mere hours earlier. * I remember being told that while you may not know where your bird dog is, your bird dog always knows where you are * On this morning before continuing out with Finn for a longer walk I leave him on his patrol, while I double back to the house for a coffee re-fill. Before heading back out, I look out the window, and where is Finn? Right where he always is when I'm inside and he's outside, holding his post in the middle of the driveway, nose to the fields, awaiting my return.
Finn is the best dog ever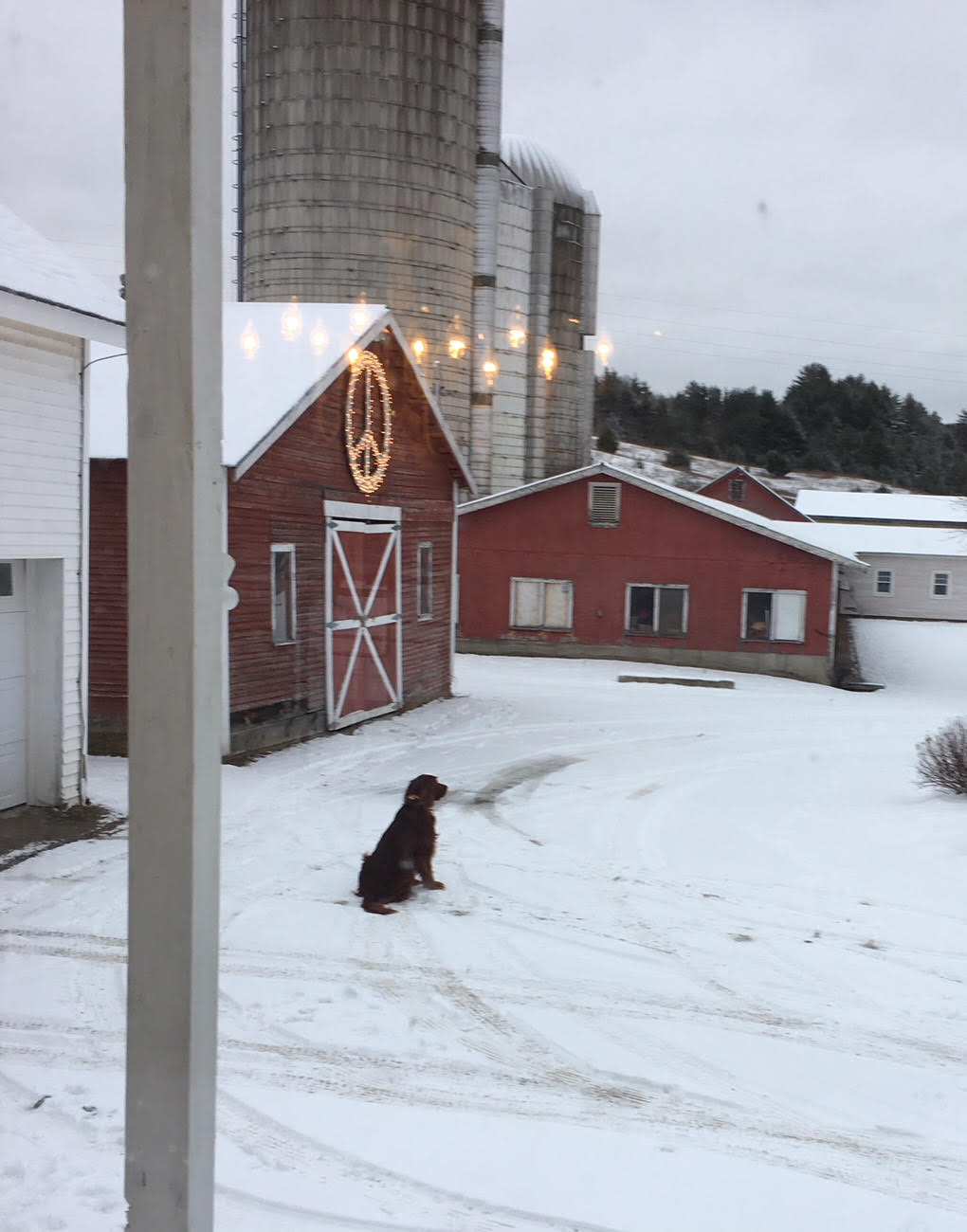 Categories: None